Games for Change Asia-Pacific, Creative Victoria and Melbourne Museum co-present
Beyond the Screen @ Melbourne Museum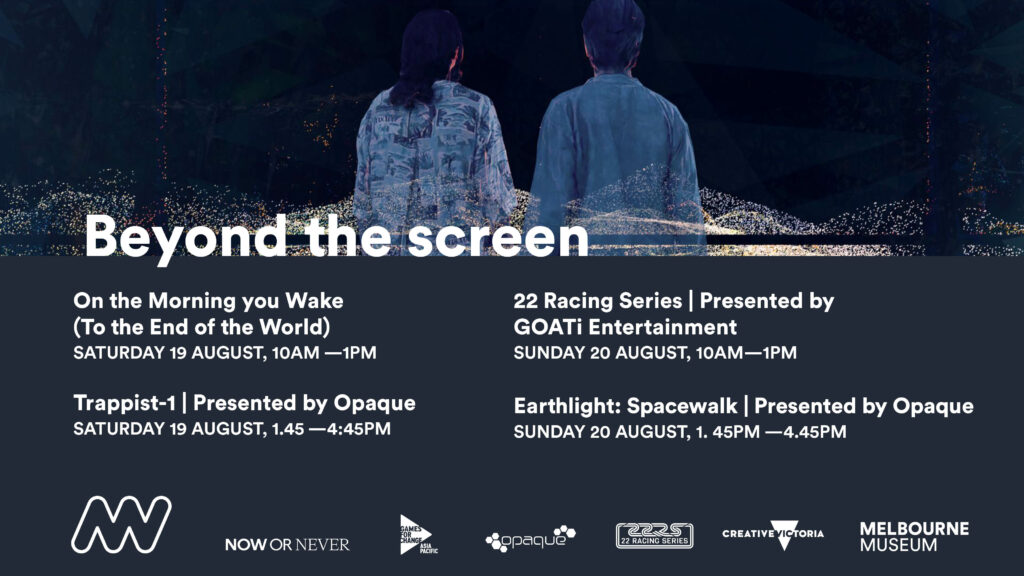 Sat 19 Aug – Sun 20 Aug | 10am-5pm
Melbourne Museum – Learning Lab
11 Nicholson Street, Carlton
You don't need to be a billionaire to become a space tourist. You don't need a time machine to speed across 22nd-century landscapes ravaged by climate change. You don't have to expose yourself to radiation to witness the lived experience of those that faced nuclear disaster.
All you need to do is join us for a weekend of state-of-the-art virtual experiences at Melbourne Museum's digital Learning Lab where stunning projections combined with interactive VR gaming brings first-of-its-kind digital immersive experiences to life.
Curated by Games for Change Asia-Pacific for National Science Week, at this weekend, you can watch games in action and speak with developers about the ways in which video games can help us understand the world's most pressing issues and build a better tomorrow.
Spaces are limited. Arrive early to avoid disappointment.
SESSION TIMES
On the Morning you Wake (To the End of the World), Saturday 19 August, 10am-1pm (contains some adult themes)
Trappist-1, Opaque Media, Saturday 19 August, 1:45pm-4:45pm
22 Racing Series, GOATi Entertainment, Sunday 20 August, 10am-1pm
Earthlight: Spacewalk, Opaque Media, Sunday 20 August, 1:45pm-4:45pm
For more information on each session, visit the Melbourne Museum website.