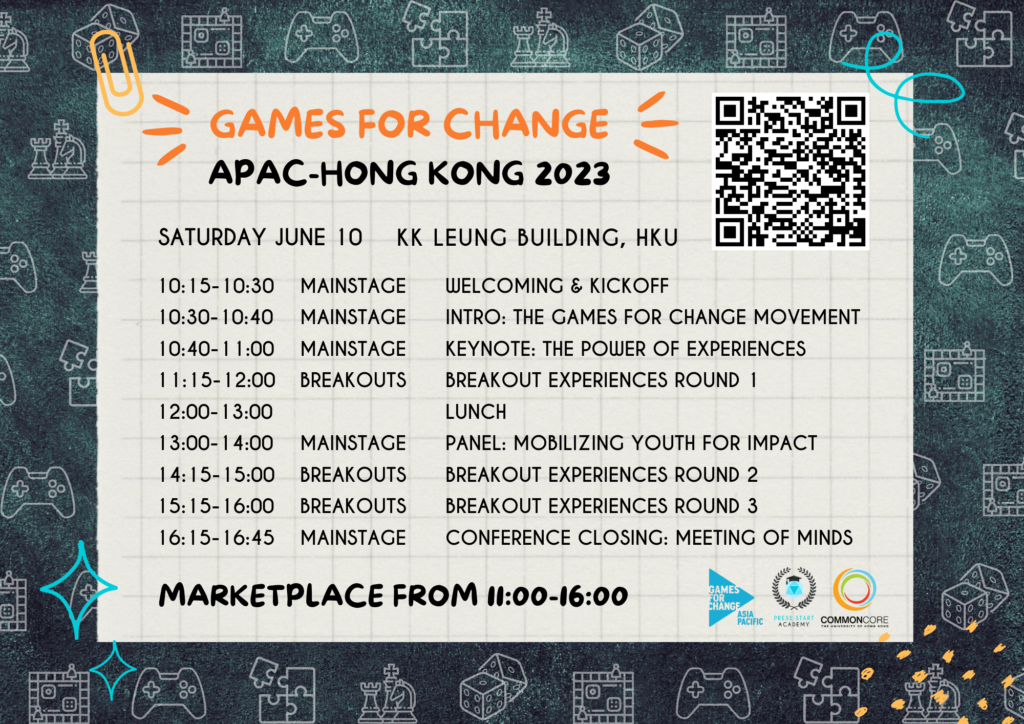 GAMES FOR CHANGE ASIA-PACIFIC HONG KONG 2023
Games are the most powerful form of immersive learning.
In the modern era where experience is king, we are seeing a fascinating movement exploring social impact and educational innovation in the form of creative and interactive storytelling mediums.
At the inaugural Games for Change APAC-Hong Kong, we will be discussing the potential of these new formats with a lineup of changemakers, NGO experts, creatives, academics and educators. We will be curating a selection of deep, impactful experiences so you can try your hand at creating your own. We will be showcasing some outstanding examples of creative formats exploring educational impact. And we will be inviting you to share your thoughts, ideas and expertise.
This is just the start to bringing serious games and immersive learning to the mainstream. We hope that with the support of our partners and sponsors, and with a vibrant community of educators, creatives and changemakers, June 2023 will mark the beginning of the Games for Change movement in Hong Kong.
Four themes and questions that will run throughout G4C APAC-HK 2023:
🎲 Interactive Experiences: What is the power of serious games?
🛠️ Impactful Presentations: How can we bring serious games to life?
💬 Important Conversations: How can we elevate games for change?
🤝 Inspiring Connections: What's next for serious games in Hong Kong?
Stay tuned for full details on the event rundown, speaker lineup and hands-on experiences!
In 2021, the first Games for Change Asia-Pacific Festival was held in Melbourne as a hybrid event, with the G4C APAC team headquartered in Australia. In its two-year history, G4C APAC has featured creators across the region, including Singapore, Malaysia, India, Japan, Australia and Hong Kong, with Press Start Academy having presented a total of four keynote speeches and case studies, as well as kicking off the conference remotely in 2022.
We are pleased to have secured the opportunity to continue our successful relationship with Games for Change Asia-Pacific, to be its first regional satellite partner event outside of Australia, and to bring this internationally renowned conference to Hong Kong.
About Press Start Academy
Press Start Academy is an education startup that builds fun, immersive, facilitated K-12 learning experiences founded on the 21st-century skills, and trains teachers on how to do the same for their students.